Step-Up Ballroom is back in business.
Now located in Mountain View at 215 Moffett Blvd, Step-Up Ballroom is offering Ballroom, Salsa, Argentine Tango, and West Coast Swing classes.
See the Step-Up Ballroom class calendar
They are offering Step-Up Specials for November only including:
Try your 1st group class and social free!
Get your 1st Private Lesson 50% off!!
Special Pricing on All Sunday & Monday Group Classes

$10 for 1 class, $15 for 2 classes, $25 for 3 classes

$5 Arg Tango Practica

Special Pricing on Friday Night Salsa/WCS Class and Social

$10 class, $15 class & social, $5 social only
---
UPDATE 10/10: Opening postponed to November. New venue to be announced.  Masonic venue CANCELLED.

 
In a follow up interview with Raffaele, he talks about the cancellation of the events scheduled at the Masonic.
Apparently, the handshake agreement with Masonic which they originally expected to have a completed contract on the move-in date, that Thursday 10/8, was unceremoniously cancelled via email instead. This put Step-up in a tenuous situation, since they had already moved in, their sound system was in place and the schedule of practices and dances that evening was already set. Needless to say a mad scramble happened trying to understand the situation and the stonewalling they got was frustrating. They even got the mayor involved. They were told that they would accommodate them for that day but to make sure all their belongings were vacated the next day or they were going to throw them out. No reason was given by Masonic as to why, except that they changed their mind.
So, now what? Raffaele after recovering from the shock, already has 2 studios lined up as possible replacements. This time, he won't announce it until he has an executed lease.
He can now find humor about the incident and in his heavy Italian accent, joke:
If this was Italy, I would've settled in it in a different way…but I have to be a good boy in California…"
Stay tuned for announcements as to revised venue and schedules.
At the heels of Cheryl Burke Dance's closing and …
From its ashes, a new group has cobbled together a dream of another large ballroom between 10-15K sq ft to replace CBD. Furniture and fixtures, lessons learnt and the community built from the legacy of the now defunct studio are being picked over to be reused as needed.
The new group is a partnership between Raffaele Sabato, David Weise and Paul McNamara, 2 competition pros and a funding developer and dancer. The search is underway and may take anywhere from 6 months to even a year to complete…
In the meantime, Raffaele is going solo financially and taking a chance so he can keep his dance family together. He will be holding the fort as Step-up Ballroom, while David and Paul expedite the final home. Partnering with him for the interim place, Brigitte Levy, CBD's manager, the last 3 years, is joining him to provide the continuity for the crossover.
I'm not in it for the money first. I take the risk to transfer the feeling of family. If you feel it, you do it." he says.
Raffaele joined CBD 5 years ago after moving from Italy, where he owned a ballroom with his grandfather. He competed in international standard and taught Pro Am for 20 years. He witnessed the energy and passion at CBD and quickly called it home. He is on a mission to keep that flame burning and not allow it to cool while the new home is being found.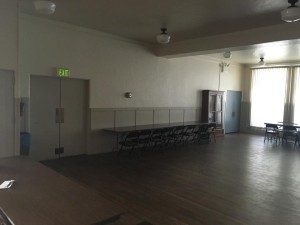 Singlemindedly preparing to keep the dance going in temporary facilities. Raffaele adroitly found a suitable temporary home, 10 minutes away at the Mountain View Masonic Hall at 890 Church St. Mountain View CA 94014. There are two dance floors available that open into each other. The large auditorium is 2,400 sf ft and the large Dining Room is 1,000 sq ft.
The facilities is available on Thursdays, Fridays, Sundays and every other Saturday.
Soft starting this Thursday, Oct. 8th and Sunday Oct 11th, David Weise is kicking it off with beginner and intermediate West Coast Swing and Daniel with Salsa. Door Fee for lessons and party is $10.
Rumba and Cha cha will be taught by Natalja, Arkadiy and is $20-$35. Floor space is available for privates and practice on those days from generally around 11:00A to 8:30P. The Sunday schedule is Salsa, Merengue and Bachata. See details below.
It will be a very busy month as they ramp up and hit the ground running.
Brigitte thanks everyone for all the support through the years at CBD and is hoping for the dancers continued loyalty as they endeavor to keep the community together.
Dancing is a passion not business"
says Raffaelo. These are the people that are in the Field of Dreams. The ones that say:
If you build it, they will come."
and it shows in their product. The energy you feel is not bustle but joy. More power to him as he holds together their dream. See you there.
Author: Gina Katigbak, avid social dancer and dance maven.  Go to www.DanceMaven.com to find where to dance in the San Francisco Bay Area.