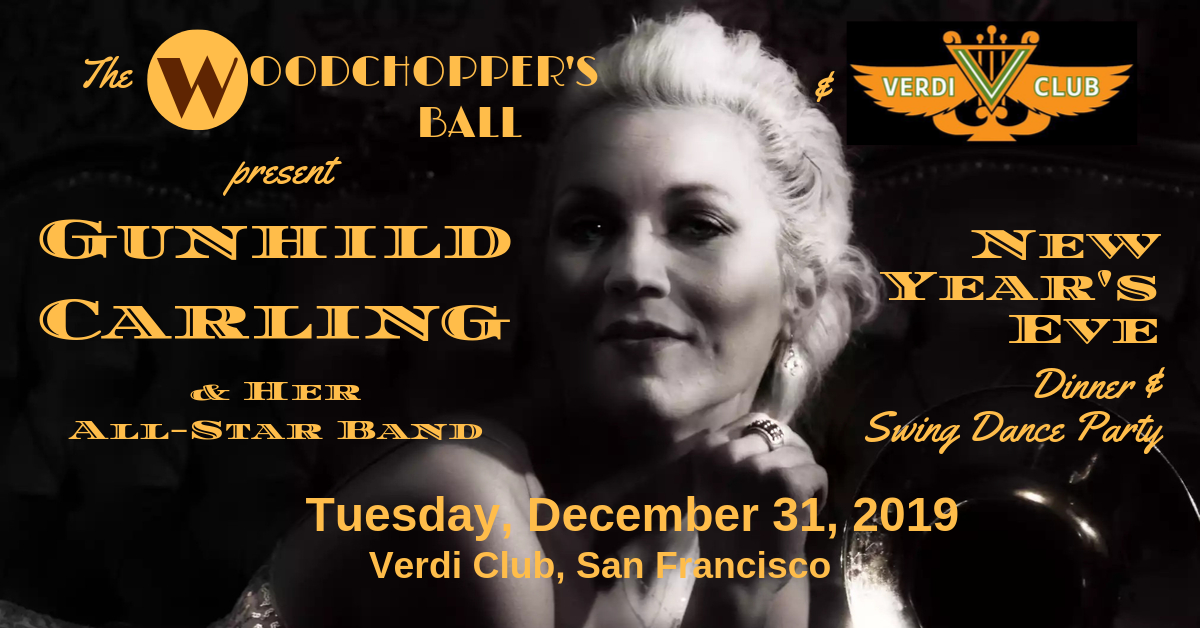 Date/Time
Tue Dec 31 - Wed Jan 01, 2019
6:00 pm - 1:00 am
Location
The Verdi Club
Dance Style(s)
6:00p: Doors Open
6:00p - closing: Full Bar & Lounge open (21+ only)
6:00p - 7:00p: Cocktail Hour
7:00p - 9:00p: Full Course Buffet Dinner
9:00p - 9:15p: Drop-in Basic Swing dance lesson
9:00p - 12:30a: Live Music Dance Party with Gunhild Carling
12:30a - closing: DJ'ed Dancing $90 Dinner & Dance Party
$40 Dance Party only (incl Basic Swing dance lesson)
NEW YEAR'S EVE DINNER & SWING DANCE PARTY!
Come join us for an epic evening of dining, music, and dance as we celebrate and swing in the new year! Live music by Gunhild Carling & Her All-Star Band! Full course dinner option with wine! Brought to you by the Woodchopper's Ball and the Verdi Club.
Facebook Event
FULL COURSE BUFFET DINNER: 7:00-9:00pm, prime rib, halibut, or vegetarian options, wine at the table, dessert!
DANCE PARTY: 9:00pm-closing, featuring Gunhild Carling & Her All-Star Band!  Includes a Basic Swing dance lesson (9:00-9:15pm), perfect for complete beginners (no partner required)!
FULL BAR & LOUNGE: 6:00pm-closing (21+ only)!  Enjoy a classic cocktail in the swanky vintage bar and lounge!
2,500-SQ-FT DANCE FLOOR: Large, beautiful, hardwood dance floor with plenty of room to swing out!
GUNHILD CARLING:
Gunhild Carling, Sweden's Queen of Swing, is a force of nature. Whether she's singing, playing trombone, accordion, flute, bass, bagpipes, or three trumpets simultaneously, this Jazz vocalist, multi-instrumentalist, and powerhouse entertainer knows how to swing! A special guest artist at the epic Frankie 100 birthday celebration in NYC in May 2014, Gunhild is renowned worldwide, touring internationally and often performing with Postmodern Jukebox. Now see her live, in San Francisco, at the swingin'est New Year's Eve in town!
WOODCHOPPER'S BALL:
The Woodchopper's Ball, San Francisco's swing hot spot, is a weekly Tuesday night swing dance event held at the historic Verdi Club in San Francisco's Mission district. Named after the classic 1939 swing tune by the Woody Herman Orchestra (and their biggest hit!), it features monthly classes, a full bar (21+ only), and a dance party with a drop-in lesson and the largest variety of live swing dance music in town!
Facebook Page
VERDI CLUB:
The historic Verdi Club, the hall for an Italian American social club since 1935, features a swanky vintage lounge with a full bar, and a 2,500 square-foot dance floor ballroom. Come swing dance and enjoy a classic cocktail in this spacious and uniquely vintage atmosphere!
TICKETS – ON SALE NOW!
Because of the expected popularity of this event, the club's limited capacity, and our desire to make this show as affordable and accessible as possible to local swing dancers and fans of Gunhild Carling, the Woodchopper's Ball & Verdi Club are instituting the following ticket policy:
Price: Dinner & Dance $90, Dance Only $40, cash or check (payable to "Verdi Club") only.  (ATM in Verdi Club lounge)
REAL(!) tickets must be purchased IN PERSON at the Woodchopper's Ball (Verdi Club: 2424 Mariposa St, San Francisco) during its regular hours: Tuesdays, 6:30-11:30pm.  NO online sales.  (Verdi Club members may purchase tickets through the Verdi Club.)
Tickets go on sale starting Tuesday, September 10, 2019, and continue until we sell out.
Maximum 2 tickets/person.
No refunds, but tickets are transferable.  If you personally cannot show up to buy tickets in advance, have a friend buy them for you!
Monthly Class Students: Admission to this event is NOT included with enrollment in a monthly class; Woodchopper's Ball students, including those enrolled in a December 2019 monthly class, must purchase tickets for this event if they wish to attend.
There WILL be ins-and-outs (with a hand stamp).
The bar & lounge will open when doors open at 6:00pm, including for people purchasing a Dance Only ticket.  Come early and enjoy a cocktail before the show!
We hope to see you New Year's Eve!  Cheers!
Event details last verified [lv_date]   [event_edit_link class="blue"]Edit this Event[/event_edit_link]