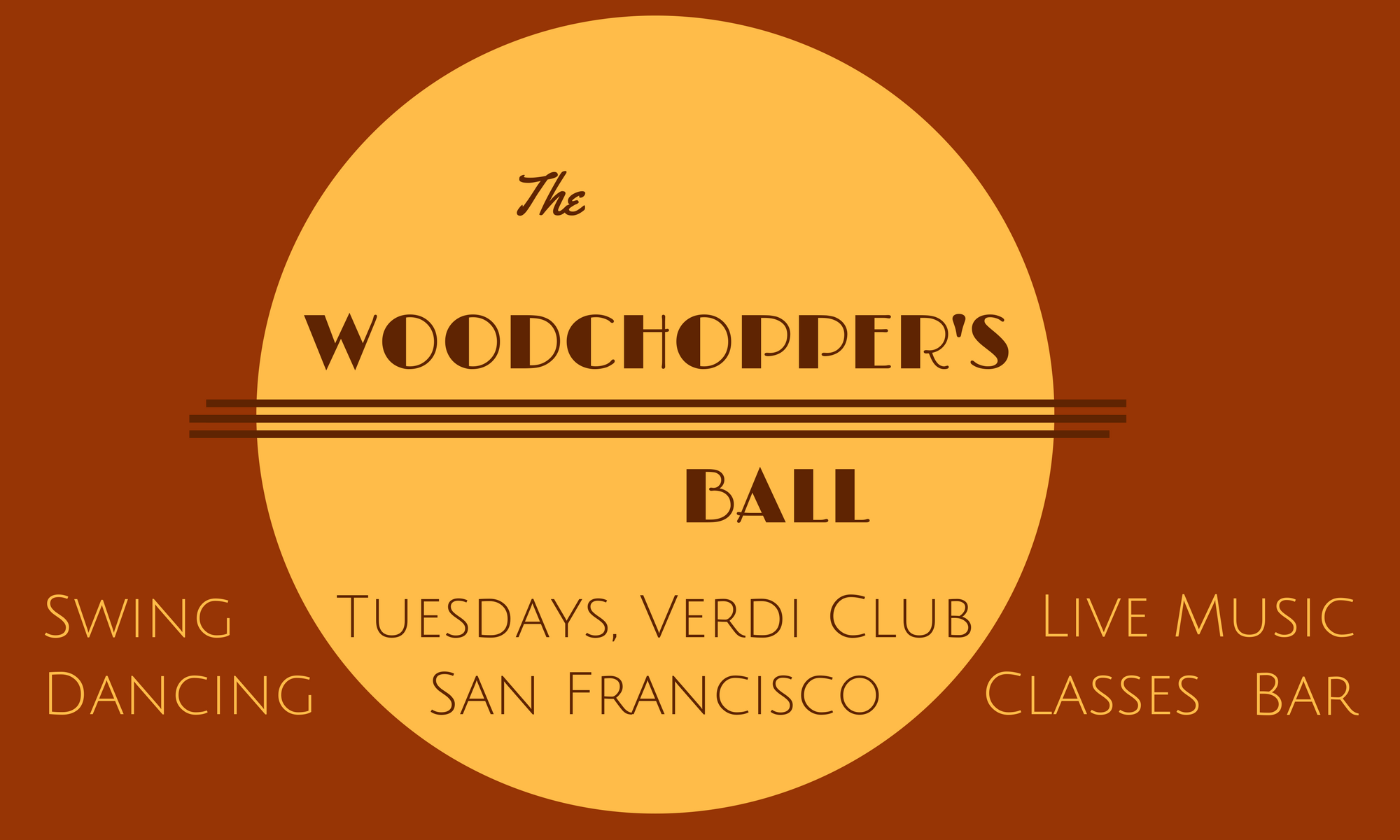 Date/Time
Tue Oct 29, 2019
7:00 pm - 11:30 pm
Location
The Verdi Club
Dance Style(s)
HALLOWEEN SWING DANCE!
For a devilishly swingin' good time, wear a costume and start your Halloween early at the Woodchopper's Ball, Tuesday, October 29! Killer music, mischievous spirits, scary fun, and more!
THIS WEEK'S BAND: Americano Social Club
The
Americano Social Club
is led by Michael Zisman on mandolin and features guitarist Jason Vanderford and bassist Joe Kyle Jr. Tonight's lineup also includes guest vocalist Emily Z. and guitar virtuoso Scott Foster. The Americano Social Club plays music for "la dolce vita" by borrowing classic melodies from all over the world and re-imagining them in a way that will make you laugh, sing, and dance!
Facebook Event
7:00p - 8:00p: Int Lindy Hop, Beg Balboa monthly classes
7:30p - closing: Full Bar open (21+ only)
8:00p - 9:00p: Beg Lindy Hop, Int Balboa monthly classes
9:00p - 9:15p: Drop-in Basic Swing dance lesson
9:00p - 11:30p: Live Music Dance Party $75 ($65 adv) Full 4-Week Monthly Class Series + Dance Parties
$20 Single Monthly Class Drop-In + Dance Party
$35 Additional 4-Week Monthly Class Series + Dance Parties
$10 Live Music Dance Party only (incl Basic Swing dance lesson)
The WOODCHOPPER'S BALL
* LIVE MUSIC DANCE PARTY: 9:00-11:30pm, with a different band each week! Only $10 at the door, all ages. Includes a drop-in Basic Swing dance lesson (9:00-9:15pm), perfect for complete beginners (no partner required)!
* FULL BAR & LOUNGE (21+ only): 7:30pm-closing. Enjoy a classic cocktail in the swanky bar and lounge!
* 2,500-SQ-FT DANCE FLOOR: Large, beautiful hardwood dance floor with plenty of room to swing out!
* LINDY HOP and BALBOA Beginning- and Intermediate-level monthly swing dance class series: 7:00-9:00pm. New class series generally start the first Tuesday of each month and meet for 4 weeks. Register online in advance (by the Monday before the first class) to save $10, or register at the door on the first day of class. Enrollment includes admission to the Dance Parties!
Event details last verified [lv_date]   [event_edit_link class="blue"]Edit this Event[/event_edit_link]