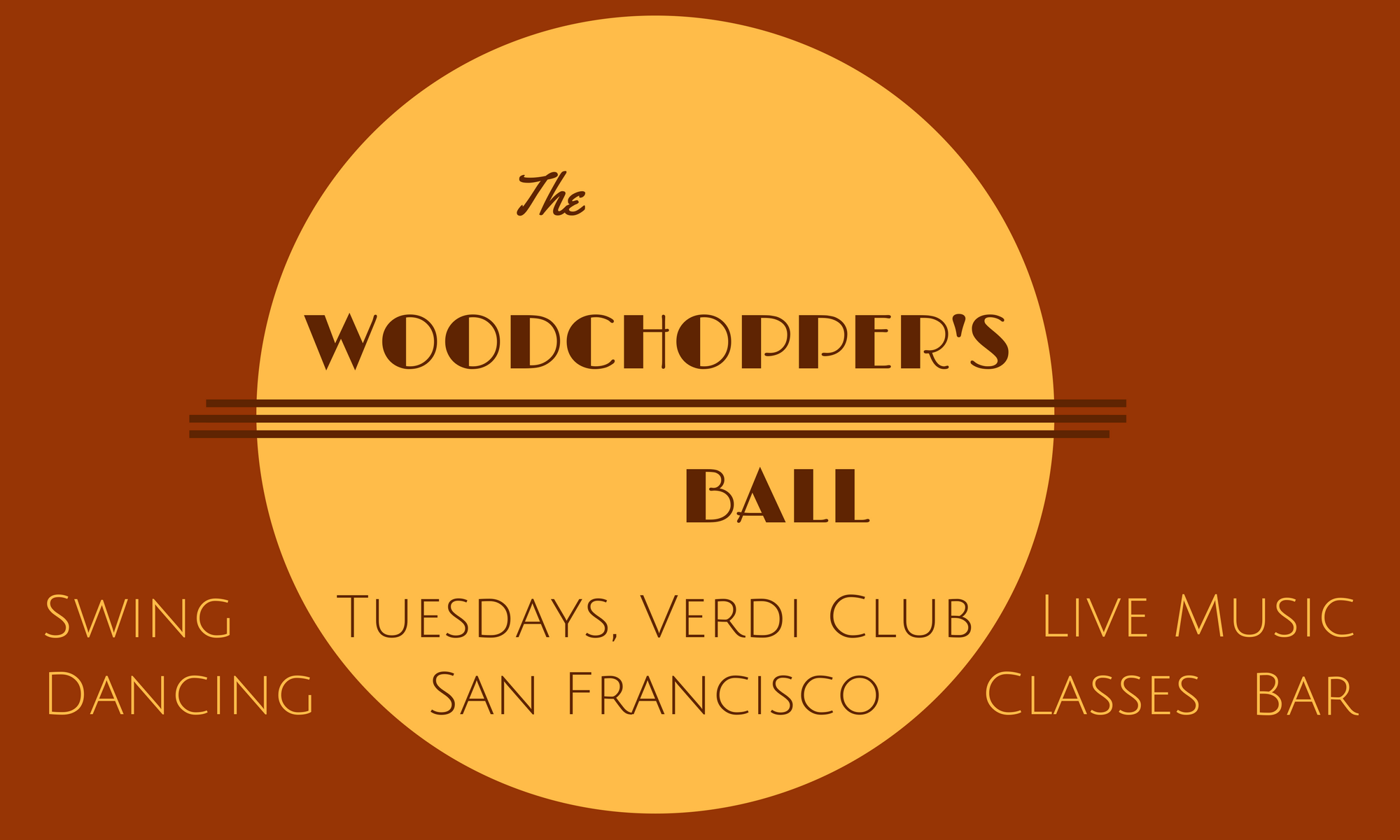 Date/Time
Tue Mar 13, 2018
7:00 pm
Location
The Verdi Club
Dance Style(s)
March 13: Lisa Gonick & The Damfino Players
Playing hot jazz, trad jazz, blues, early swing, and novelty tunes,
Lisa Gonick & The Damfino Players
are sure to please kids of all ages. As a lindy hopper & dance instructor, Lisa knows what dancers want in a band. Their full 6-piece lineup and infectious rhythms will keep your toes tapping, feet moving, and face smiling!
Facebook Event
7:00p - 8:00p: Int Lindy Hop, Int Balboa monthly classes 7:30p - closing: Full Bar open (21+ only) 8:00p - 9:00p: Beg Lindy Hop, Beg Balboa monthly classes 9:00p - 9:15p: Drop-In Basic Swing Dance Lesson 9:00p - 11:30p: Live Music Dance Party $75 ($60 adv) Full 4-Week Monthly Class Series + Dance Parties $20 Single Monthly Class Drop-In + Dance Party $30 Additional Monthly Class Series + Dance Parties $10 Live Music Dance Party only (incl drop-in Basic Swing lesson)
The WOODCHOPPER'S BALL
* LIVE MUSIC DANCE PARTY, 9:00-11:30pm, with a different band each week! Only $10 at the door, all ages. Includes a drop-in Basic Swing Dance lesson (9:00-9:15pm), perfect for complete beginners (no partner required)!
* 2,500-SQ-FT DANCE FLOOR: Large, beautiful hardwood dance floor with plenty of room to swing out!
* FULL BAR & LOUNGE (21+ only), 7:30pm-closing. Enjoy a classic cocktail in the swanky, newly renovated lounge!
* LINDY HOP and BALBOA Monthly Class Series: Intermediate 7:00-8:00pm, Beginning 8:00-9:00pm. New class series generally start the first Tuesday of each month and meet for 4 weeks. Register online in advance (by the Monday before the first class) to save $15, or register at the door on the first day of class. Enrollment includes admission to the Dance Parties!
Event details last verified [lv_date]   [event_edit_link class="blue"]Edit this Event[/event_edit_link]