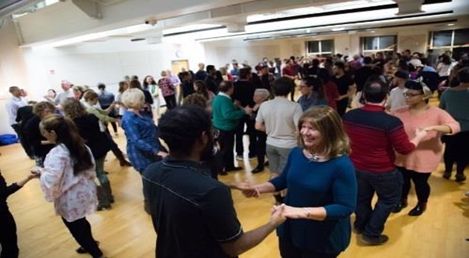 7pm to 10 pm $12
Announcing Slow Dance
Tuesday July 2
A Slow Dance is touch dancing with conversation.
No special dance skills needed. Ballroom frame with gentle swaying left and right.
Anyone can dance the Slow Dance.
Romantic music all night long, soft and quiet. The lights are dimmed.
You can have conversation while dancing.
Everyone writes 4 topics of conversation on their name tags for ice breaker.
slow dance
example of my conversation name tag
slow dance 001
Tuesday July 2 Fellowship Hall – upstairs
625 Hamilton Avenue Palo Alto, CA 94302.
Doors open 7pm
Social mixer 7:00-7:30
Dance class 7:30 – 7:45
Dance 7:45 – 10:00
you can drop in late, no problem, just fill out your
conversation name tag, and ask someone to dance!
$12 at the door
If you can walk you can dance at the Slow Dance
http://www.Slow-Dance.com Great way to meet new people
No dance experience needed
meeting and talking with someone while dancing
Quiet slow romantic music from the 30s to the 60s.
casual comfortable attire.
contact: Scottfnw@pway.com
In past Slow Dances, everyone dances! quite amazing. Since there are no barriers to dancing, everyone dances.
Using the conversation topics name tags as a great ice breaker, you can start conversations about interesting subjects right away.
What to put on your conversation name tag? anything that you would like to talk about.
Some ideas: favorite vacations, favorite restaurants, favorite movies, favorite tv show, favorite plays,
favorite music (rock, opera, grundge, industrial, oldies), the weather (everyone has a great weather story),
Pets (cats, dogs, birds), sports (hiking, skiing, sailing, darts, bowling, golf, camping, cars), pro sprorts (49ers, warriors, sharks),
gaming, costuming, renaissance fairs, Dickens Fair, green living, there are no limits
You will be amazed at how many interesting topics there are!
Quite often people just get slower and slower at their dancing because they have such interesting conversations.
This idea came about in discussion with friends who have attended many dances and other singles meetups,
but were also frustrated at how difficult it was to discover any mutual interests.
So the idea was created to have everyone write down 4 topics of
conversation where you give permission for people
to start a conversation with you about that topic. You don't have be an expert,
or knowledgeable about the topic, only that you enjoy talking about it.
That way you can start having interesting conversations right away
without having to waste a huge amount of time with useless chitchat.
When combined with Slow Dancing, you have 3 1/2 minutes to get started with conversations.
Slow Dancing is much like the last dance at a high school prom. Sway left, sway right.
Copyright © 2019 Scott Gamble
Event details last verified [lv_date]   [event_edit_link class="blue"]Edit this Event[/event_edit_link]