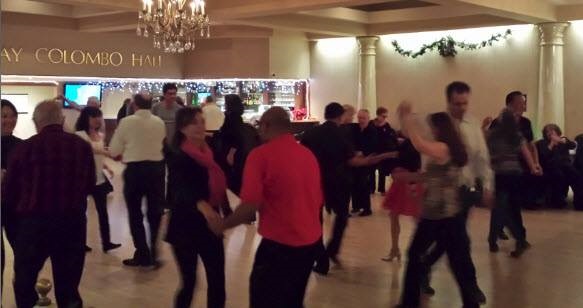 7pm - 11pm $12 Lesson & Dance / $7 Dance Only
Wednesday, Dec 18th means it's time for B Street Boogie!
It's our last dance until New Year's Day as we are closed on Christmas Day (12/25)
~AND~
It's also our 2nd Holiday Benefit Dance Night …
with added goodies and treats and always lots of fun!
DECEMBER 18th BENEFIT DANCE at B-Street in San Mateo
Annual night honoring our dear Raul, Rascal & Rocky … benefiting two "no-kill" animal shelters and 501(c)3 charities:
Nine Lives Foundation & Pets in Need.
Come and join us for this very worthwhile benefit evening as we donate the proceeds plus additional donations are also being accepted. We will also have added treats tonight and everyone is welcome to bring a snack to share if they wish.
Schedule
7pm-8:30pm … WCS Classes (Beginner & Intermediate)
8:30pm-11pm … Dance Party with DJ, Michelle or guest playing a music mix – a variety of west coast swing with some nightclub two-step, country two-step, hustle, cha cha, salsa, waltz, & other popular favorites. (requests accepted & encouraged)
Location: Peninsula Italian American Social Club, 100 North "B" Street, San Mateo, CA 94401
Web: http://www.michelledance.com/wednesday.html
Event details last verified [lv_date]   [event_edit_link class="blue"]Edit this Event[/event_edit_link]